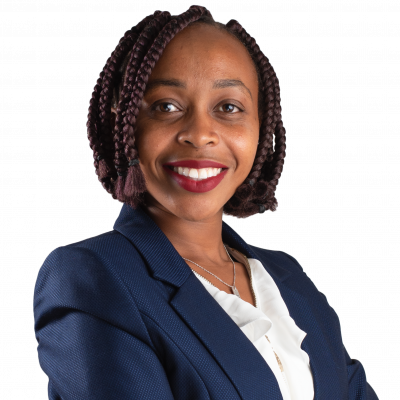 Rosemary Chepkorir is an associate in the litigation department and specialises in dispute resolution, employment law, family law, environmental and land law.
She is also involved in the practice of insolvency, banking, constitutional law, corporate & commercial and real estate & conveyancing.
Rosemary holds a Bachelor of Laws (LLB) from the University of Nairobi, a Bachelor of Arts in International Studies from the University of Nairobi and a post-graduate diploma in Law from the Kenya School of Law.
"Rosemary specialises in Dispute Resolution, Employment Law, Family Law, Environmental and Land Law."
Part of a team acting for a renown commercial bank (under receivership) in a recovery suit after massive theft and embezzlement of funds worth USD 220 million form individuals and companies.
Part of a team representing directors in a Kenyan company concerning the fraudulent and unlawful transfer of the shares which resulted in the unlawful transfer of the company's property.
Part of a team representing multiple Kenyan commercial banks in various employment disputes on accounts of unlawful and unfair termination.
Part of a team advising an international company on enforcing guarantees in light of the proposed Law of Contract (Amendment) Bill, 2019 seeking to amend section 3 of the Law of Contract to provide that before a creditor pursues a guarantor in law, he or she should first realise the assets of the principal debtor.